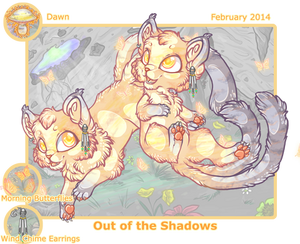 The Out of the Shadows shop (often refered to as OotS) is a gem currency shop. It sells limited edition pets and items that are only available for a month, as well as a Forever collection of pets and items that are always available. It opened on August 2013.
A preview of the next month's set is usually posted on the forums by staff at least a few days before the current month ends.
The official list of all currently released OotS pets on-site can be seen here.
Out of the Shadows - Pets
Edit
Pets are available for purchase in two forms: as a mushroom you can feed to an existing pet to change its coat color, or as a completely new pet.
Pets cost 10 gems each.
Out of the Shadows - Pets 2013
Image
Coat
Month
Tanuki
August 2013
Kheper
September 2013
Mycena Kimono
October 2013
Brown Wood Owl
November 2013
Siberian Squill
December 2013
Out of the Shadows - Pets 2014
Image
Coat
Month
Bleeding Heart Dove
January 2014
Dawn
February 2014
Tribal Flame
March 2014
Ink Cap
April 2014
Lovebird
May 2014
Atlas Moth
June 2014
Bleeding Tooth Mushroom
July 2014
Fairy Dust
August 2014
Golden Tiger
September 2014
Golden Thread Cordyceps
October 2014
Pumpkin Pie
November 2014
Winter Dragon
December 2014
Out of the Shadows - Pets 2015
Image
Coat
Month
Crowned Crane
January 2015
White Serval
February 2015
Pastel Star
March 2015
Blue Morpho Butterfly
April 2015
Corroded Automaton
May 2015
Gilded Glow
June 2015
White-Spotted Jellyfish
July 2015
Rustic Garter
August 2015
Dappled Apple
September 2015
Orange Bitey Thing
October 2015
Northern Wind
November 2015
Angelic Solstice
December 2015
Out of the Shadows - Pets 2016
Image
Coat
Month
Winter Phoenix
January 2016
Arcane Whispers
February 2016
Fable
March 2016
Honey Milk
April 2016
Happily Ever After
May 2016
Rhubarb
June 2016
Starstruck Sea
July 2016
Magic Surge Meteorite
August 2016
Sugarsweet
September 2016
Elysium
October 2016
Melanistic Jaguar
November 2016
Three Wishes
December 2016
Out of the Shadows - Items
Edit
Along with the pet, two new items are always released with each monthly set.
Items cost 3 gems each.
Out of the Shadows - Items 2013
Images
Item 1
Item 2
Month
Leaf Hat
Sake
August 2013
Egyptian Wings
Golden Headpiece
September 2013
Kanzashi
Obi
October 2013
Autumn Leaves
Ornate Gold Bracelet
November 2013
Whiskers
Flurry of Flowers
December 2013
Out of the Shadows - Items 2014
Images
Item 1
Item 2
Month
Birdcage Lantern
Spirit Dove
January 2014
Wind Chime Earrings
Morning Butterflies
February 2014
Katana
Boss of the Cave Hat
March 2014
Midnight's Horns
Inky Paws
April 2014
Magical Streak
Flower Trio
May 2014
Golden Ear Cuff
Cartographer's Charts
June 2014
Faerie Ring
Mossy Hat
July 2014
Enchanted Wings
Flappy Mushies
August 2014
Zebra Plush
Origami Cranes
September 2014
Fungal Growth
Spores
October 2014
Pumpkin Trio
Whipped Cream
November 2014
Let It Snow
Dragon Nest
December 2014
Out of the Shadows - Items 2015
Images
Item 1
Item 2
Month
Fur Mantle
Royal Crown
January 2015
Poofy Hat
Poofy Mittens
February 2015
Konpeito Pouch
Stitched Ribbon
March 2015
Blue Rose Collar
Fragile Blue Wings
April 2015
Bluebirds
Staff of the Guardian
May 2015
Giant Hibiscus
Ankle Bells
June 2015
Sea Butterflies
Lunar Headpiece
July 2015
Serpent Tattoo
Mice in a Cave
August 2015
Drifting Petals
Silverwoods Circlet
September 2015
Fangs
Suspiciously Red Beverage
October 2015
Cozy Knit Scarf
Mug of Hot Cocoa
November 2015
Snowkissed Cape
Holly-day Blossom
December 2015
Out of the Shadows - Items 2016
Images
Item 1
Item 2
Month
Phoenix Sparks
Phoenix's Roost
January 2016
Soulstone Collar
Fiendish Companion
February 2016
Shining Glaive
Immortal Mask
March 2016
Floral Wand
Butterfly Tear Gem
April 2016
Fluttering Bustle
Flowerscape
May 2016
Aphid Friends
Diaphanous Wings
June 2016
Starspun Strands
Starshine Summon
July 2016
Meteor Shower
Cityscape
August 2016
Cute Ear Piercings
Unlikely Sight
September 2016
Faerie Chimes
Midsummer Fantasia
October 2016
Leafy Wings
Jungle Glade
November 2016
Starry Eyes
Head in the Clouds
December 2016
Forever Collection
Edit
Forever collection inekis are always available month to month. Cheaper than the monthly coats, priced at 7 gems for each pet and 5 gems for each corresponding mushroom, they are ideal to use as 'fodder' to use other coat mushrooms or Changingshrooms on.
Current Forever Collection
Images
Name
Price
Coral Spring
Mushroom: 5 gems

Pet: 7 gems

Tainted Smoke
Mushroom: 5 gems

Pet: 7 gems

Sunbeam
Mushroom: 5 gems

Pet: 7 gems
A new set of forever pets was released during Mycena's 2015 anniversary. The old Forever Collection mushrooms can still be purchased from the Fungimental Magic shop for 40,000 nuggets each.
Forever Collection 2013 - June 2015
Images
Name
OotS Price
Fungimental Magic Price
Cave Painting
Mushroom: 5 gems

Pet: 7 gems

Mushroom: 40,000 nuggets
Cave Shadows
Mushroom: 5 gems

Pet: 7 gems

Mushroom: 40,000 nuggets

Sunbeam
Mushroom: 5 gems

Pet: 7 gems

Mushroom: 40,000 nuggets
Relevance to the Economy
Edit
Due to being released for only a limited time, some users will purchase these pets and items as an investment to resell at a higher price in the future. Other users will buy them simply for personal use.
Opportunities for Rerelease
Edit
Although past sets do not return to the shop, it is possible to obtain a previously released pet or item as a rare prize in an official site raffle (in items such as the Changingshroom or the Cave Capsule) or by purchasing from other players.