Spring Flower Rush! was Mycena Cave's first non-forum based event and included the first breeding raffle.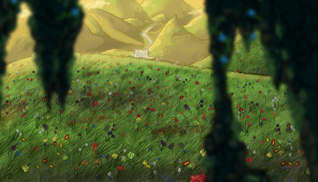 IntroductionEdit
From February 22nd to March 2nd 2014 the Spring Flower Rush event was held, where all the little Inekis traversed outside of the cave to the meadow beyond to pluck flowers. Once they had enough flowers, they could create a bouquet to give to other Inekis and receive petals. These petals could then be used to exchange for prizes in the Secret Garden Shop!
http://i242.photobucket.com/albums/ff132/Ziphir/Petal_01_zps18c54bcd.png http://i242.photobucket.com/albums/ff132/Ziphir/Petal_02_zpsc2cb877c.png http://i242.photobucket.com/albums/ff132/Ziphir/Petal_04_zps9c7daea2.png http://i242.photobucket.com/albums/ff132/Ziphir/Petal_05_zpsdad57527.png http://i242.photobucket.com/albums/ff132/Ziphir/Petal_03_zps87725b9b.png
The ScenarioEdit
The bone monster is getting drowsy and easily distracted! Every fifteen minutes, you can sneak past and run out to the flower fields, and collect a pretty flower. Once you get enough flowers, assemble them into bouquets and offer them to your favorite sweethearts! Get petals by picking your first flower of the day, or by giving someone a bouquet! Giving or receiving a bouquet reduces the time you need to wait before sneaking back outside to collect flowers.
Note: Bouquets crafted here will wilt and vanish after the event is over. Only bouquets bought with petals from the secret garden shop will last and be equippable to your pets. Flowers left over at the end of the event will be transformed into petals, and unused petals will be used as raffle tickets for more prizes :D
The FlowersEdit
Bouquets
Image
Name
Flowers Needed
Worth
Bouncy Bouquet

crown callistophus
coral lily
sunny aster

6
Faded Majesty Bouquet

plum dahlia
creamy stephanotis
blue mallow

8
Garden Surprise Bouquet

rosy peony
green button
sunny aster

10
Happy Fields Bouquet

yellow rose
dapper daisy
tiny tradescantia

12
Little Joys Bouquet

tiny tradescantia
sunny aster
blue mallow

13
Meditative Bouquet

tranquil iris
creamy stephanotis
tiny tradescantia

11
Super Glorious Bouquet

yellow rose
green button
coral lily
dapper daisy
sunny aster

15
Swappable for petals in the Secret Garden Shop.
Garden Bags
Image
Item
Contains
Petal Cost
Green Garden Bag
Randomly contains one of the 7 bouquets with a small chance (1%) for the Spring 2014 mushroom.
10
Yellow Garden Bag
Randomly contains Kenny the Bunny, Clover the Bunny, Daisy Hair Clip, Forget-Me-Not Locket, Gardenia Blossoms and Little Robin with a small chance (1%) for the Spring 2014 mushroom.
20
Red Garden Bag
Randomly contains one of the three event transformative mushrooms (Briers of Rose, Ombre Flower, Spring Sprouts).
200
Three coat colors were released for the Spring Flower Rush! event. They were included in the Red Garden Bag as mushrooms and for direct purchase as mushrooms with petals. They can also be obtained through a Changingshroom.
Mushrooms
Image
Coat Color
Petal Cost
Briers of Rose (Dog Ineki)
333
Ombre Flower (Dog Ineki)
333
Spring Sprout (Drasillis)
666
Items could be directly purchased for petals or randomly drawn through the Garden Bags. The white bag only contained the mushrooms of the newly released coat colors while the other two contained the items.
The equippable items that were released were:
Equippables
Image
Item
Petal Cost
feeeee
Bouncy Bouquet
14
Faded Majesty Bouquet
14
Garden Surprise Bouquet
14
Happy Fields Bouquet
19
Little Joys Bouquet
29
Meditative Bouquet
38
Super Glorious Bouquet
44
Kenny the Bunny
33
Clover the Bunny
25
Daisy Hair Clip
25
Forget-Me-Not Locket
33
Gardenia Blossoms
24
Little Robin
25
The content of the Quote section are from memorable quotes said by users during the duration of the event. They are not reflective of how the staff of Mycena Cave feel (although we do find some of them amusing).
The Bone Monster is a Worried Mother
Tamako: When I think of how all the ineki are sneaking out to get flowers, I just think of the bone monster hollering like an overly stressed mother with too many naughty children to keep her eyes on.Jingles: HehDeddo: That... That is a wonderful mental image.

Elfe: *chucks squeaky toy at bone monster*

Jingles: "YOU GET BACK HERE THIS INSTANT, ILYA! Rangsey, no! Wha- BRANT!"

Tamako: And then I imagine the bone monster in an apron with flour all over its face hollering from the kitchen. "GET BACK INSIDE THE CAVE THIS INSTANT! >:C"

Tamako: Yes, exactly that. XDD

Deddo: That's what the bell actually is. An egg timer in the bone monster's kitchen.

Deddo: Hence distraction.

Deddo: xDD

Elfe: "I'mma just go take the cookies out of the oven, don't you dare leave the cave while I'm .... gone...."

Tamako: XDD

Jingles: "Alright, that's it. No more cookies.

Jingles: "But you better wait here while I take out the pie..."